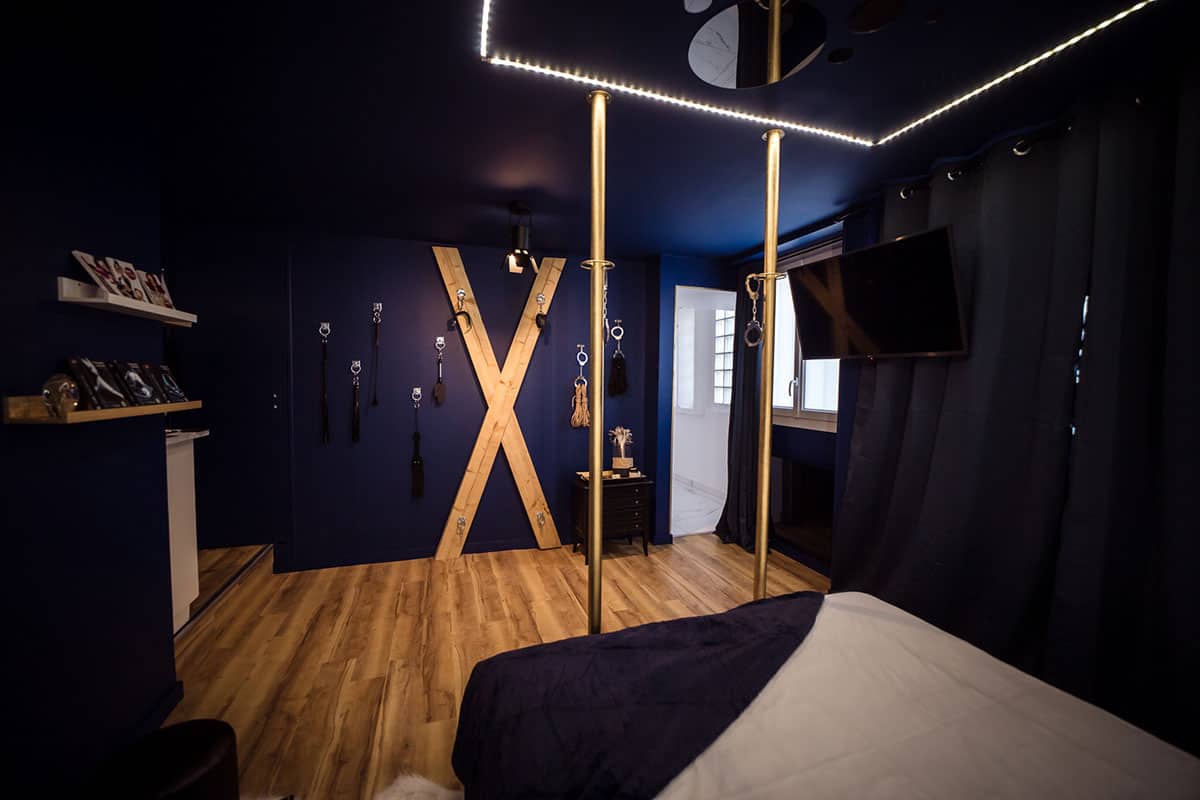 50 Shades Studio
Themed studio in Caen
A room made unique by its decoration, its sophisticated bathroom but also by its conception especially elaborated for your pleasure.
You liked the Fifty Shades of Grey trilogy and you are curious?
The 50 Shades Suite offers you a wide choice of possibilities according to your personal tastes but also to your desires of discovery.
The decoration has been deliberately chosen to create a cozy and warm atmosphere so that you can feel as comfortable as possible.
You will be able to discover various accessories such as a cross of Saint Andrew or bars of pole dance.
In the bathroom, you will find a shower and a whirlpool bathtub that can accommodate 2 people.
In this suite, you will also find a kitchen area with a stove, a refrigerator, an oven, a kettle and a coffee maker.
Lit Queen size

Queen size bed

Saint Andrew's Cross

Dancing pole

Some accessories provided

Balneo for two + shower

Equipped kitchen

Flat screen TV

Bathrobe + towel

Independent toilet
We also offer you the possibility to choose your customized formula by selecting your dinner and your breakfast.
In an ecological and environmental approach, we have chosen to use nature-friendly or energy-saving products.
The toilet paper is recycled and made in Normandy (Papeco), the cosmetic products are either made in Saint Pierre en Auge (a few kilometers from Caen by Orély's soaps) or organic from responsible brands like Cosmonaturel.
We have chosen non-energy consuming teapots and coffee makers in order to limit plastic and aluminum packaging as much as possible.
Once the reservation is made, in case of cancellation up to 14 days before your arrival, you will be reimbursed up to 70% of the amount of your stay, in case of cancellation within 14 days before your stay, the amount of your reservation is not refundable.
Arrivals are from 5:00 pm to 10:00 pm in complete privacy thanks to a key box system. The day of your reservation you will receive an SMS with the codes allowing you to access your suite. Any unscheduled arrival after 22:00, requiring the displacement of a member of the team, will be charged 30 €.
We do not have private parking, but parking is easy in the vicinity.
The amount of the stay is debited from your account on the day of the reservation. A deposit of 300€ will be requested to DEFINITELY validate your reservation. This deposit is a loan, it is not debited. After the cleaning if no deterioration is noted and if the rules of operation above were respected, the print will be raised.
An inventory of fixtures is made after each passage.
Our friends the animals are NOT welcome.
The bedrooms are booked for two persons only. 
These rooms are only intended for  individuals and are NON SMOKING.
The petals used to make the "hearts" are rented to you, in case of theft they will be charged 29€.
In case of non-compliance with these instructions, the FULL amount of the deposit will be debited.
A video surveillance is carried out in the hall (common part)
 All the necessary sanitary measures will be implemented for the safety of everyone.

For sanitary reasons, we offer all kinds of accessories for intimate use that you can find in our custom-made living room area.
Your Love Box will be waiting for you in your room. Of course, you can bring your own accessories.
The rooms are exclusively designed and insured for 2 persons and are non-smoking.
Thank you. We look forward to welcoming you.
It is through our unusual experiences that we wanted to give the opportunity to the most curious of you to live them in an enriching way. More than material memories, we want you to leave with unforgettable moments together.
Some of the options can directly be added to your cart. For some wishes, you can book directly with our partners.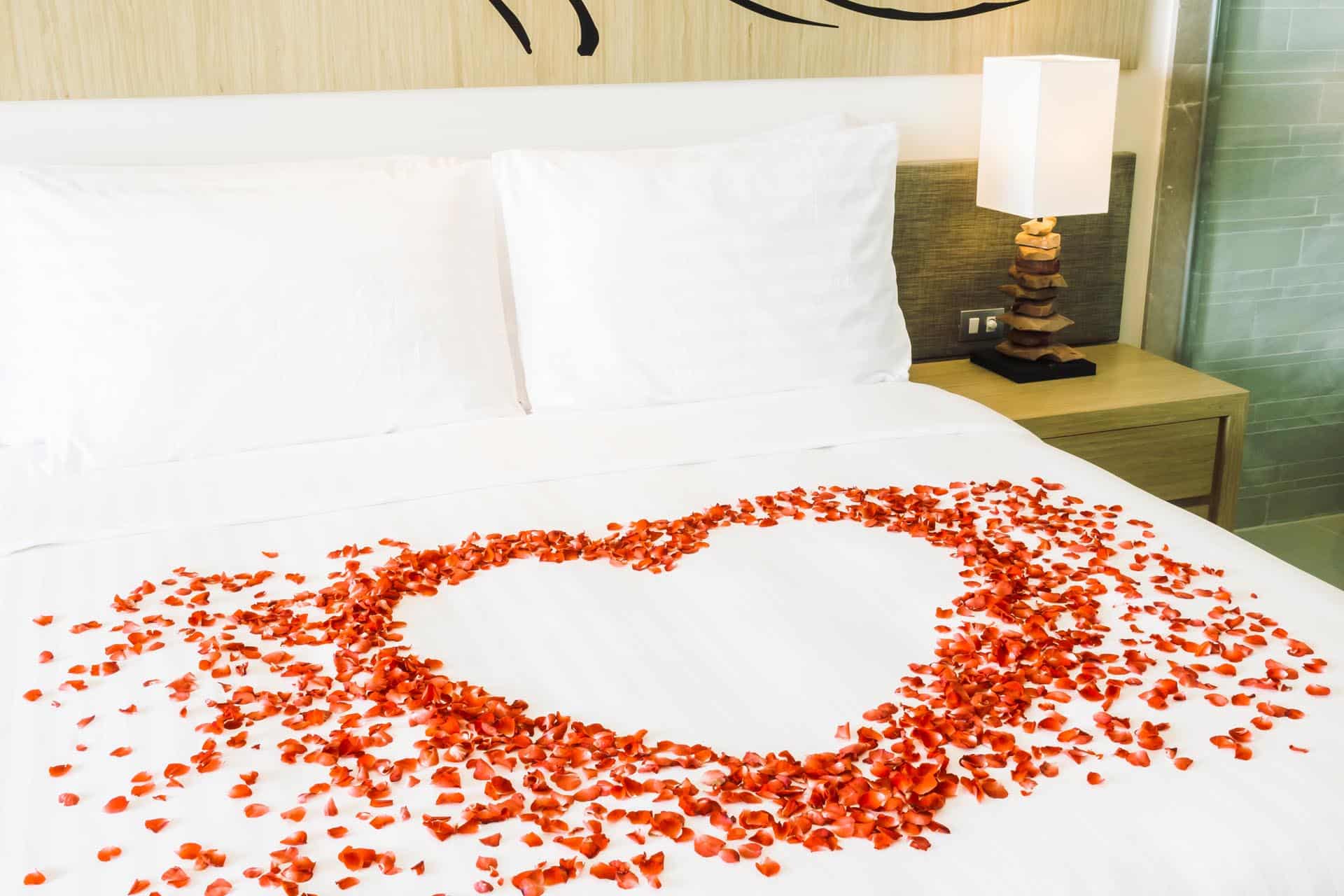 Our customers recommend it 
Elise  for the Shaman Studio: "The apartment is very pleasant, well equipped, very clean and extremely well located in the city center of Caen. The host service was very pleasant and flexible. I highly recommend it. Thank you!"
Benoit  for the 50 shades studio : " An unforgettable experience in an exceptional place. Everything is done for the pleasure of the couple. Comfort, cleanliness and impeccable service. We will come back…."
."
Patrice & Nathalie  for the Nature & Spa cottage:  : "We had an excellent stay at Charline's, she's discreet and very receptive. The suite is very clean and quiet. The jacuzzi is great, as well as the small garden. In brief, a dream stay."
Nicolas for the Viking studio : "A housing how to say….Magnificient. The pictures speak for themselves, one would really believe like in a Viking time, completely transported in time! The accommodation was very well furnished, nothing to complain about, clean and also close to downtown. Thank you again to our host.
Alexis for the 50 shades studio : ""Perfect night with my lover in a very pleasant place. Cleanliness, atmosphere, small intentions, everything is there to relax. Icing on the cake, the team is very attentive and listening.
Jeanne for the Shaman Studio: :" A timeless place that keeps its promises! The subtle and sophisticated decoration as well as the availability of multiple books and games on the theme of spirituality are an opportunity to escape and recharge your batteries. Moreover, the accommodation is particularly clean. Thank you!
."